Introduction
There are many times when bass are just not interested in feeding on or near the surface. When water temperatures have not risen into the 70's such as during the spring and fall or during summer cold fronts, bass become much less aggressive. They also tend to retreat into the deeper water during the middle of the day. During these times you need to get down to the fish with either swimming or bottom type flies. These patterns also account for some of the larger fish of the year.
Fly Tying Seminar
This group of flies is a good representation of the type of flies that you can use to get deep for bass. I typically fish the hair Jig on a floating line and use a Fast Snap to attach the fly to the tippet to get the maximum amount of action. Use heavy tippets! Large nymphs such as the Casual Dress Nymph are always a good choice for bass when fishing is slow. Fished slow and deep, they will often take fish when nothing else will works. Additionally, while bass feed on a variety of natural aquatic insect nymphs, they do not get fished to with these type of flies often, so are more apt to eat these imitations. Finally, since small baitfish are the prime forage for bass, using patterns that imitate them is always a good idea. The Plugisi Rattling Bluegill is one of the newer synthetic patterns that has great translucency and movement in the water. It can of coarse be tied without the rattle. The Fish Mask Minnow takes advantage of both the texture and movement of Whiting Bird Fur as well as one of the newer products from Fish Scull. With these three patterns, use a floating line to fish shallow. More often I use sink tip lines of varying sink rates to get the flies to the desired depth.
Rattling Bluegill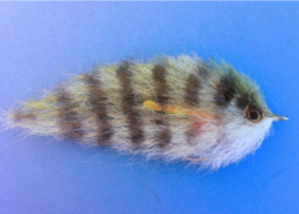 Hook: TMC 8089N(#6)
Thread: Fine Monofilament
Gills: EP Silky Fibers (Red)
Back: EP Fibers 3D (Baitfish Olive)
Center: EP Fibers (Minnow)
Belly: EP Fibers (White)
Eyes: Holographic Molded Eyes
Hare Jig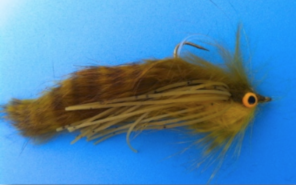 Hook: TMC 8089 (#6)
Thread: UTC 140 Olive
Tail/Body: Olive Barred Rabbit strip over Yellow Barred Rabbit
Legs: Olive/Black Flake Sili Legs
Eyes: Medium Lead Eyes (1/24 oz.)
Weedguard: Hard Mason Mono (20 lb.)
Soft Hackle Casual Dress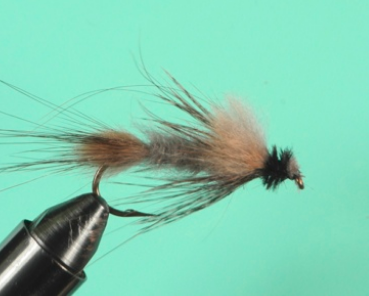 Hook: TMC 5262 or 5263; Mustad 9671 or 9672
Thread: 3/0 (140) black
Weight: #2 lead wire or lead substitute
Tail: Small bunch of muskrat with guard hairs
Body: Blended muskrat (with guard hairs removed)
Collar: Muskrat fur with guard hairs over Whiting Coc De Leon Hen Saddle (Brown Speckled)
Head: Peacock herl or black Ostrich herl
This is one of Polly Rosborough's "Fuzzy Nymphs" with added soft hackle for added movement. This fly is a great impressionistic fly for imitating a dragon fly nymph or small minnow.
Fish Mask Minnow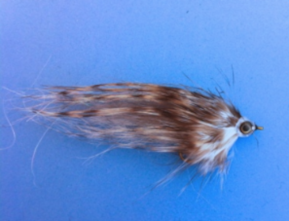 Hook: TMC 8089 (#10)
Thread:
Tail:
Collar:
Head:
Eyes:
Suggested Reading
Bergman, Ray. (1947 6th Edition) "Freshwater Bass". New York, NY. Alfred A. Knopf
Pfeiffer, C, Boyd. (2003) "Tying Warmwater Flies". Iola, WI. Krause Publications
Reynolds, Barry And Berryman, John. (1995) "Beyond Trout". Estes Park, CO. Spring Creek Press
Whitlock, Dave (2000) "Fly Fishing For Bass Handbook". New York, NY. The Lyons Press