Midwest Fly Fishing Magazine; October 2004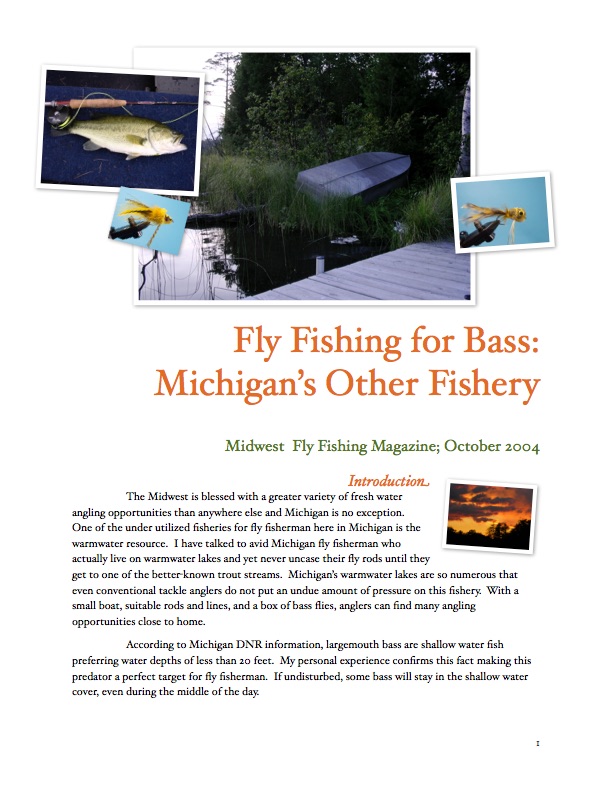 Introduction
The Midwest is blessed with a greater variety of fresh water angling opportunities than anywhere else and Michigan is no exception. One of the under utilized fisheries for fly fisherman here in Michigan is the warmwater resource. I have talked to avid Michigan fly fisherman who actually live on warmwater lakes and yet never uncase their fly rods until they get to one of the better-known trout streams. Michigan's warmwater lakes are so numerous that even conventional tackle anglers do not put an undue amount of pressure on this fishery. With a small boat, suitable rods and lines, and a box of bass flies, anglers can find many angling opportunities close to home. According to Michigan DNR information, largemouth bass are shallow water fish preferring water depths of less than 20 feet. My personal experience confirms this fact making this predator a perfect target for fly fisherman. If undisturbed, some bass will stay in the shallow water cover, even during the middle of the day.
Lake maps are an indispensable resource for finding lakes that are likely candidates for exploration. If the map of the lake has the contour lines too close to the shoreline and the majority of the lake has depths greater than 20 feet, then avoid that lake. Instead look for lakes with shallow water shelves near drop-offs. The drop-off does not have to be great, even a few feet will do. Once on the lake, if these shallow water areas have some cover in the form of lily pads, reeds or man-made structures then chances are good that bass will be present. The amount of development on a lake is also a consideration. Development doesn't necessarily mean that fishing is bad. Lake George (my home lake) has cottages and homes around most of the shoreline, however it is an excellent bass lake. On this lake, instead of casting to natural cover, I cast primarily to boat docks, swim platforms and other manmade structures. It is not always easy to tell the amount of development from lake maps. Exploration is just part of the fun. Sportsman Connection (1423 North Eight Street, Superior, Wisconsin, 54880 and Bright Spot Maps (PO Box 1342, LaPorte, Indiana, 46350) both publish good lake map books for Michigan.
A Sampling of Lakes
One of my favorite lakes is Lily Lake in Clare County. This 161-acre lake has an abundance of shallow water cover for the fly fisherman. With a large amount of undeveloped shoreline, the angler casts to lots of natural cover in the form of lily pads and reeds. The reed islands directly out from the boat ramp are a good place to start. Use topwater and diving flies in the morning and evening. Bottom bouncing flies are a good choice any time of day. Arbutus Lake in southeast Grand Traverse County is another good lake for the fly fisherman to try. This scenic 395-acre lake is divided into 5 different lakes with passages of varying sizes between each lake. The public boat launch is on lake #2. It is a good concrete boat launch with plenty of parking. A good place to begin fishing is the shallow bay on lake #2 across from the public boat launch. Try the edges of the lily pad cover early and late with topwater bugs or diving deer hair frogs. During the middle of the day try the deeper areas of this bay with a sink tip line and wooly buggers or other swimming flies. Lakes #1 and #5 would also be worth exploring. Perhaps the best largemouth lake in Michigan is Fletcher Floodwater (or Fletcher Pond). This 8000 to 9000 acre impoundment of the Upper South Branch of the Thunder Bay River is located on the border of Alpena and Montmorency counties. With large stump fields and an average water depth of less than 10 feet, this is an ideal location providing the fly fisherman with plenty of targets for casting. Bring plenty of heavy tippets, however, as large fish can easily break off around all of the woody cover. These three lakes just scratch the surface of the lakes that are available in Michigan. Even though common patterns emerge with all lakes they each have their own character and it's always a thrill to launch my boat into a new lake. If you are looking for another opportunity to use your fly rod then give this resource a try. You will not be disappointed in Michigan's other fishery.